Course Offered:
B.Ed | Duration: 2 (Two) Years | Intake: 120
Fee Structure:
The fee structure of the college is as per direction of Govt. of West Bengal & NCTE.
Admission Process:
The student admission of the college is as per direction of Govt. of West Bengal & NCTE.
Practice Teaching Training:
Students are sent to different schools for two months to develop their teaching ability. The students are sent to the primary & uccha primary schools within 5 K.M. for practice teaching before their final teaching examination.
View Practice Teaching List
The Library: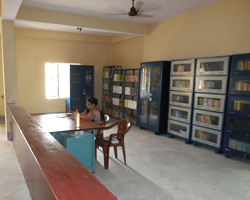 The Institute has a computerized central library with the objective of supporting academic and research Programmes of the Institute. The library is centrally placed and easily accessible. The library has a collection of over 5000 volumes in different subjects, 7 technical journals (national and international) and other periodicals, magazines and dailies (Regional-3, English-2). The major thrust areas of the library collection are technical, management, education, language teaching, literature of Bengali and English. The library also has a sizeable collection of materials in History, Cultural Studies and Religion. The library also possesses reports, pamphlets, articles, audio and video-cassettes collected from sources in India. The Reference Section for Bengali and English contain documents such as dictionaries and encyclopedias. There is also a separate textbook section housing books prescribed for specific courses provided by the Institute.
Teaching Staff: Download Now | Non-Teaching Staff: Download Now